Curtains Explained
Buying curtains can be extremely stressful. Finding the right curtain to compliment your room can be a task in itself and that's before sizing and fabric composition are considered. Here at Ponden Home we aim to ease this stress by providing some helpful hints and tips to ensure you are fully qualified to make the right choice to suit your needs.
Tracks & Poles
When purchasing your curtain pole or track, it's important to buy the right length. Ideally, the pole or track should be 40cm longer than the total width of your window so that when fixed into place, it surpasses your window by 20cm on either side, ensuring no unwanted light is let in. The pole or track should be fixed approximately 15cm higher than the window. Remember, windows and floors are not always even so take multiple measurements and use a spirit measure. Although tracks and poles are not available in our online store, many of our stores nationwide stock a variety of styles and sizes. To locate your nearest store please visit the store finder here.
Curtain Sizing
Curtains are measured in standard widths and drops. The width stated in the items description is the total width per curtain, with two curtains being present in every pack. For example when buying curtains in a 66 Inch width, you will receive two curtains, totalling 132 Inches in total. Measuring the width of your pole or track is essential before buying curtains and you must take into account how much gather you want on the curtains. As a rule you will need twice as much fabric than the width of the curtain pole or track. When deliberating on the drop it's important to take into account how high above the window your pole or track sits, and how far past the bottom of your window you wish them to hang. To see a full list of available sizes please click here.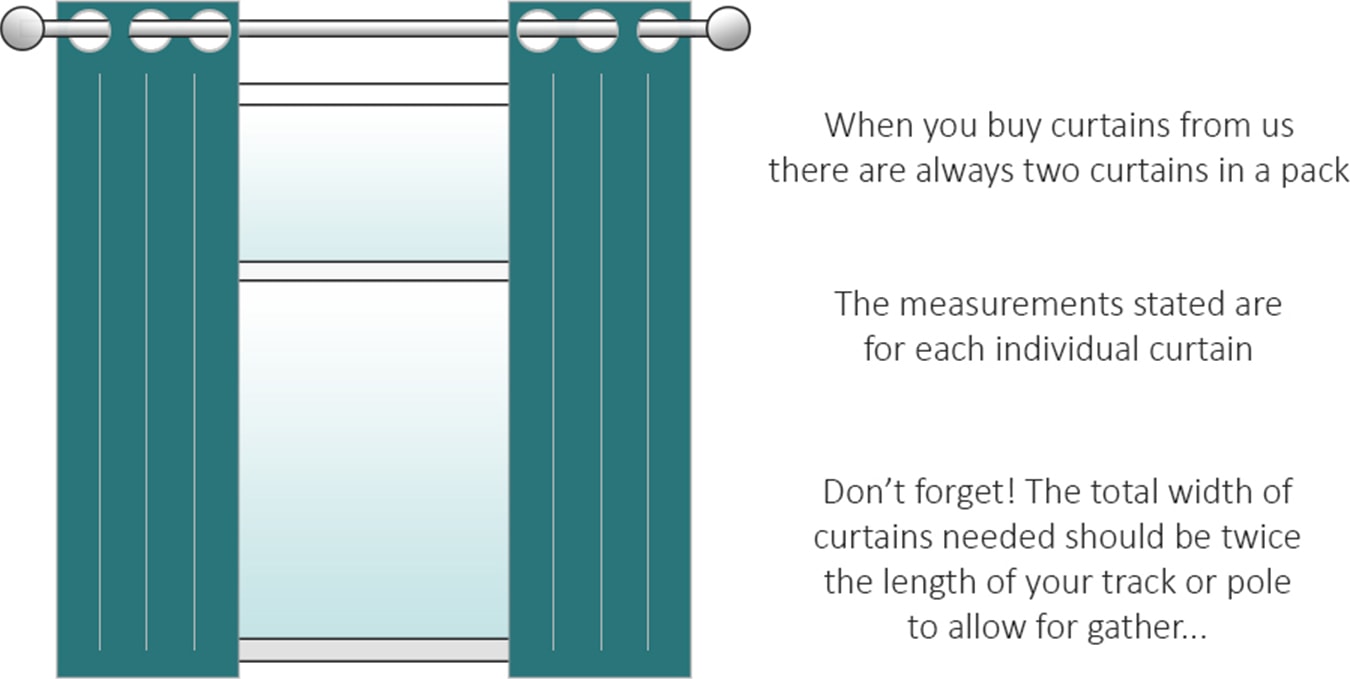 Pencil Pleat or Eyelet?
When buying curtains, it's essential you choose a style with the appropriate header. Ponden Home stock curtains with both Pencil Pleat and Eyelet Headers however not all designs are available in both so it is important to check the product description before purchasing. Pencil Pleat curtains can be hung on both tracks and poles however Eyelet Curtains can only be hung on a curtain pole. Here is a quick rundown of the features and benefits of both curtain types...

Pencil Pleat
Pencil Pleat curtains contain a header strip which must be pulled in order to gather the curtains into pleats. This is done using three strings which run the length of the header and means the curtains can be made to gather as little or as much as you like. This means it's extremely important to consider the width of curtain you will need as pencil pleats curtains can lose up to half their width when pulled fully. A good rule of thumb is to ensure that the total width of fabric of the two curtains is two times the total width of your curtain pole or track.
Pencil Pleat curtains are versatile with regards to hanging. They are commonly fixed to curtain tracks using curtain hooks which make them ideal for bay windows, where a curtain pole is not an option. They can also be hung on a curtain pole using curtain rings (these are usually included when purchasing a curtain pole). Always remember to tie the strings loosely. If tied too tight they may not be able to be undone, especially important if you move house and wish to use thecurtains for another window. Also, always keep curtain strings out of reach of childen.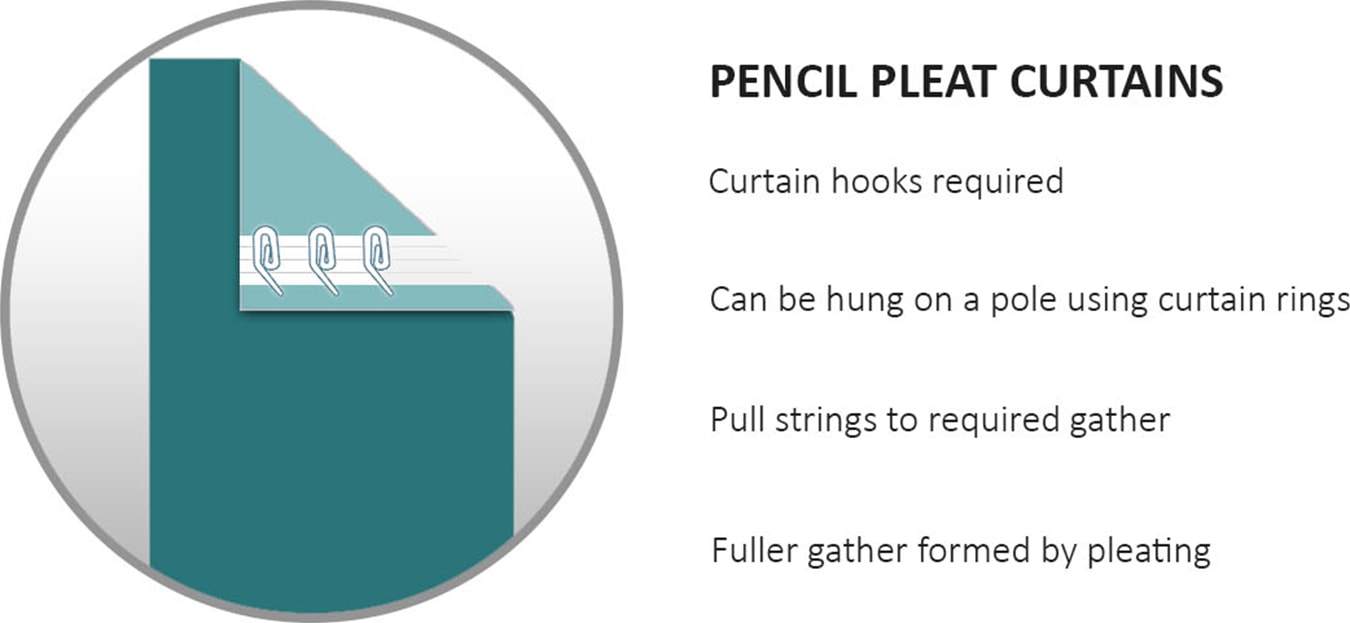 Eyelet Curtains
All of our Eyelet Curtains feature a 4 Inch header containing metal eyelets measuring 2 Inches in diameter. They can only be hung on a curtain pole meaning eyelet curtains are not an option if you have a curtain track. It is important when choosing the width you ensure you have twice as much fabric as the width of your curtain pole. Eyelet Curtains are becoming increasingly popular as they are quick and easy to hang and drape well due to standardised spacing of the eyelets.
Linings
All of our curtains come fully lined with the exception of a selection of blackout curtains which feature a special coating to block out light. If you do require blackout capabilities you can choose to purchase a curtain from our blackout and room dimming ranges. Not only do these curtains offer blackout capabilities to ensure a great night's sleep, they also provide noise reduction and thermal qualities, making them equally as effective in winter as in the summer months. If you see a curtain youlike without blackout backs, these can always be purchased seperately as blackout linings.
Click here for a full range of Blackout, Room Dimming and Thermal Curtains.
Fabric Composition
Ready-made Curtains are available in an almost limitless selection of fabrics, each with their own features and benefits. Fabrics can add texture, affect how the curtain hangs and provide a variety of additional qualities. From heavyweight Chenille's and Jacquards to light Cottons and Polyesters, the choice is endless and as with any fabric, care instructions can vary.
Cotton
We offer a number of curtains featuring 100% cotton facings adding the additonal benefit of being machine washable. Cotton curtains are a lighter alternative to heavier weaves which means if you are looking for a heavy, heat insulating curtain this may not be the ideal material for your needs. All of our printed curtains are 100% cotton.
Embroidery
Embroidery is the process of decorating fabric using needle work and thread to create a pattern or design. This can be done using plain coloured thread however additional options are available such as sequin embroidery or the use of more diverse yarns including metallic thread. The process adds an additional design element in terms of texture that printing cannot achieve.
Jacquards
Jacquard weaves are created on a special loom, resulting in a much thicker, textured weave. The process raises specific threads during the weaving process resulting in a more substantial weave. Patterns and designs can be woven-in during the process resulting in beautiful woven textiles in a variety of materials. Jaquard curtains areweightier than than other woven materials resulting in superb hanging and draping.
Chenille
Chenille is produced by placing short lengths of yarn called pile between two core yarns and then twisting together. This results in an extremely soft fabric with a disctinctive texture. Due to the twisting of the yarn, chenille can look different from different angles giving an almost iridescent effect when light hits the fabric. Chenille fabrics are relatively heavy and thus hang and drape well.
Velvet
Velvet is a type of woven fabric whereby two ticknesses of the material are woven at the same time then cut apart to create a short dense pile with evenly distributed threads. This gives velvet a unique texture and extremely smooth feel. Aswith chenille, the nature of the fabrics weave can give an iridescent appearance and the dense pile makes for a heavier curtain which drapes well.
Help Is At Hand
We hope you found the above information helpful and that you feel better prepared to navigate the twists and turns of the curtain buying procsess. If we confused you more or you still have questions,remember you can contact customer services and we will endeavour to help with any queries or questions you may have.
Now go forth, be brave and find the curtains of your dreams...